Lightspeed Restoration of
Twin Cities East Metro
Restoring Your Peace of Mind
Getting You Back to Business Fast
Lightspeed Restoration of Twin Cities East Metro
Your neighbor Steve Fall proudly owns and operates Lightspeed Restoration of the Twin Cities East Metro. Our licensed and insured technicians are available 24/7 for your fire and water emergencies. We also provide Mold remediation, Radon Mitigation, COVID sanitizing, Odor Elimination and air duct cleaning for all of Dakota County, Washington County and St. Croix county for both commercial and residential. Our highly trained team is local and has grown up on both sides of the Mississippi and St. Croix Rivers. We know a thing or two about frozen pipes in our cold Minnesota and Wisconsin winters or the spring flooding when the snow is melting. The only thing more intense than a Packer/Viking football game is waking up to water damage in your home or cleaning up after a fire. Or perhaps its closing the deal on an older home on Summit Ave. only to discover there is mold in the basement that you need to remediate. Unlike food on a stick at the State Fair that's only available two weeks a year - we are available 24/7. We are passionate about providing reliable services that allow our Midwestern clients to focus on the things that truly matter like going to the MOA or the MN Zoo, while we handle everything else. We stand behind our workmanship, and guarantee complete customer satisfaction. When you turn to us, you can rest assured you're placing your trust in the hands of a company who genuinely care. Ready to breathe easier? Then it's time to contact Lightspeed Restoration now. From the attic to the basement, you'll see for yourself: it's not clean unless it's Lightspeed Restoration!
Learn More About Us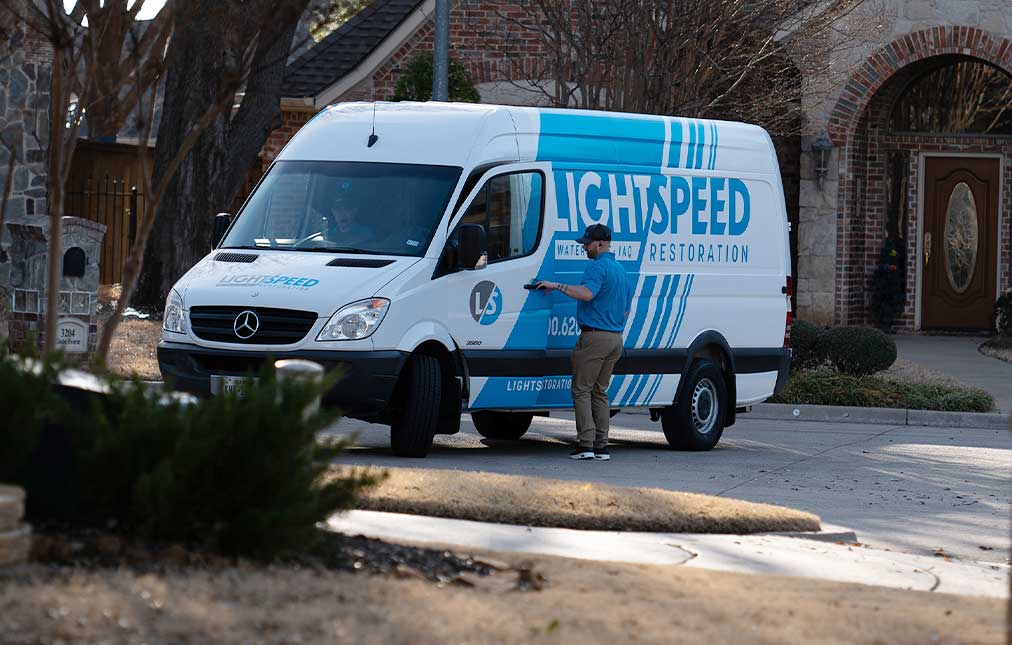 We absolutely follow the golden rule and we want to be trusted and make sure it's done right.
- Steve Fall, Owner
Mold Removal, Water Damage, and Air Duct Cleaning Services in St. Paul
Moisture control in Minnesota is a year-round effort if you own a home or a business. That's why you need the proven professionals of Lightspeed Restoration of the Twin Cities on your side for all the best moisture mitigation solutions from your attic through the main floor and down to your basement. Moisture control requires an intentional, well-planned approach and we have all the mitigation solutions you'll need for the most enjoyable and healthiest life in your home and office. Basement moisture won't be around anymore after you call us -- we'll show you how a basement waterproofing plan can save you tons of money in the long run. The same goes for our crawl space encapsulation services; we eliminate all your crawl space moisture and preserve the investment you've made in your home from the bottom up.
Our air duct cleaning and dryer vent cleaning services will also enhance the health of your home and get rid of all the harmful toxins that collect throughout the year and threaten your respiratory health. You'll be able to breathe the difference after an air duct cleaning thanks to our advanced HEPA-filtered vacuum systems that get all the contaminants out of the entire length of your ductwork. An annual dryer vent cleaning from Lightspeed Restoration will also make sure your home is protected from the danger of dryer vent fires and it will clean the air that you breathe every day.
Water damage doesn't happen on our watch; when you hire us for water removal, we get right to work for you and eliminate any flooding issue in your property. Whether it's a sewer cleanup, a localized flood cleanup in one part of your home or office, or any other flooding issue, we've got all the right tools, training and certifications to make sure that your flooding worries are gone for good. Even if you've contacted us after water damage has taken place, we'll bring you the highest-quality water damage restoration available in the country. After we're done, you'll know exactly why Lightspeed Restoration has been the proven leader in water damage restoration since 1994.
Mold removal and mold remediation are also our specialties. If black mold is something that you've been wondering or worrying about, then it's time to call us now. We use the most advanced mold testing and mold inspection techniques and our equipment is the best in the business. Black mold doesn't stand a chance against our superior knowledge and experience. Why take a chance by doing mold testing or mold inspection on your own? When you let Lightspeed Restoration of the Twin Cities do it for you, you'll have the peace of mind in knowing that we're going to find every last bit of mold, even the spores that are hiding behind your walls.
Our Reviews Speak for Themselves
Such a Great Company and Staff!!! Highly recommended!! Jon and his team did an amazing job!! I was an unfortunate new home owner that had crawl space mold and vapor barrier issues. Jon had us scheduled right away and came out to do a free walk thru estimate. He was very thorough and explained everything, even at a very affordable estimate compared to other companies I had out. He was even able to work within my busy schedule and come out to do the mitigation Off normal business hours. Can't recommend Jon and his crew enough!!!

— Carrie M. Saint Paul, MN
We were very pleased with the professionalism and care taken by Lightspeed Restoration. It was obvious that everyone in the company desired to solve our problem. They were not only responsive but took extra care to protect our home. They did a great job!

— Todd F. Saint Paul, MN
They have no "BS" pricing, don't try and upsell you and very friendly and informative. The guys that came to do the work were also very friendly and took their time to do a good job. I called another company prior to Kris and they quoted me at minimum 350 dollars more and couldn't come out for 2 weeks! Glad I didn't settle for the first quote. Can't say enough good things, would definitely recommend or use again.

— Austin W. Saint Paul, MN