Lightspeed Restoration of
Richmond West
Restoring Your Peace of Mind
Getting You Back to Business Fast
Lightspeed Restoration of Richmond West
Lightspeed Restoration of Richmond West is your local provider of full restoration services. When your home or business has emergency water damage, mold, poor indoor air quality, or moisture issues, we are the service provider you can trust to fix the problem.
Depend on Lightspeed Restoration anywhere in central Virginia. Whether it's Chesterfield County, Short Pump, Henrico County, Carytown, Chesterfield County or any where else, Lightspeed Restoration helps you get your life back to normal.
We've served Central Virginia since 2012 by providing these indoor air quality solutions. We'd like to show you why Lightspeed Restoration is the company of choice for so many. Give us a call.
Learn More About Us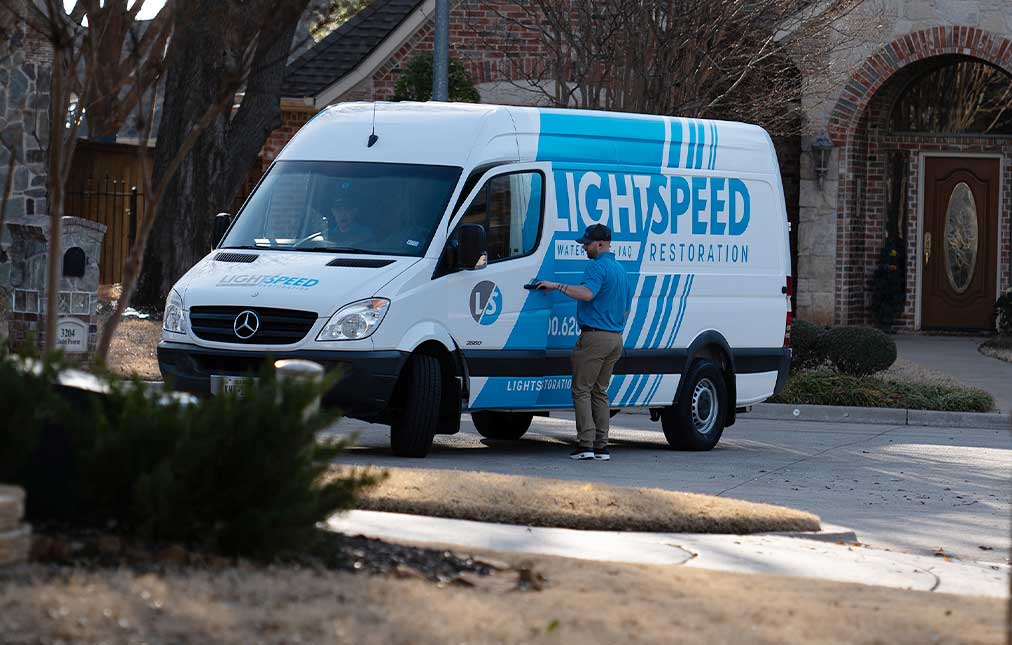 We are committed to the health and well-being of our community.
- Kevin and Tami Dumville, Owners
Mold Removal, Water Damage, and Air Duct Cleaning Services in Mechanicsville, VA
Once you make the initial call to any of our locations, our knowledgeable sales representatives will take care of finding you the best solution to any issues you are facing. No job is too big or small for Lightspeed Restoration!
Our services are specifically designed with your health and well-being in mind. Whether you need mold remediation, water damage clean up, air duct cleaning, or moisture control our goal is to provide you with the best quality services as possible. Give us a call to learn more about our team, company, and services so we can help you achieve a clean home. We look forward to hearing from you!
Our Reviews Speak for Themselves
We have been in our home 3 1/2 years, and this is the second water leak that caused damage. Lightspeed Restoration was recommended by our insurance company last year when we had a dishwasher leak. Recently, we discovered a toilet leak that was passing water and sewage into our crawl space. Based on the work done last year, I called Lightspeed Restoration again, and again they were responsive and very helpful. Everyone I dealt with was friendly and efficient. The clean-up was accomplished in minimal time. The bottom line for me with Lightspeed Restoration is that I trust them.

— Veronica M. Mechanicsville, VA
Kevin was excellent in working with us to remediate mold in our crawlspace. His team was very professional and thorough. I was impressed how quickly they responded to our request for services and also did the work in less than a week from being contacted.

— MIke R. Mechanicsville, VA
Kevin was extremely professional, knowledgeable and helpful in starting the process of getting our house back to its pre-water damaged condition! I tried the green company but couldn't get them here in a timely manner. Kevin was here immediately on a Sunday! I highly recommend this company.

— David M. Mechanicsville, VA