Lightspeed Restoration of
Alexandria & Fairfax
Restoring Your Peace of Mind
Getting You Back to Business Fast
Lightspeed Restoration of Alexandria & Fairfax
Veteran owned and family run, Lightspeed Restoration of Alexandria & Fairfax strives to provide our community essential services, providing a sense of security and confidence as we help people overcome emergency mitigation and indoor environmental challenges by providing transparency, good value, and high quality workmanship.
Emergencies like a fire or flood don't wait for convenient business hours which is why our team provides 24/7 emergency services to respond promptly and efficiently manage the situation. Our goal is to prevent mold growth, salvage what we can, and get you back to normal as quickly as possible. We work with your insurance company and help alleviate the stress of what we know is a difficult time.
Beyond emergencies we are also trained and equipped to handle projects that will improve the health of your home or facility and the people who spend time there. We offer free mold inspections, mold testing and mold removal, as well as air duct cleanings ranging in size from an apartment or condo to high rise office buildings and everything inbetween. Good indoor air quality is essential and whether you are concerned with mold, dust, radon gas exposure of odors, Lightspeed Restoration has you covered!
Our highly trained staff members hold multiple certifications for Mold Testing and Remediation (MICRO Certified), Water Damage Mitigation (IICRC Certified), Air Duct Cleaning (NADCA Certified) and Radon Testing and Mitigation (NRPP Certified). We invest in the education and certification of our staff to both ensure top-notch service and help them grow as professionals!
Learn More About Us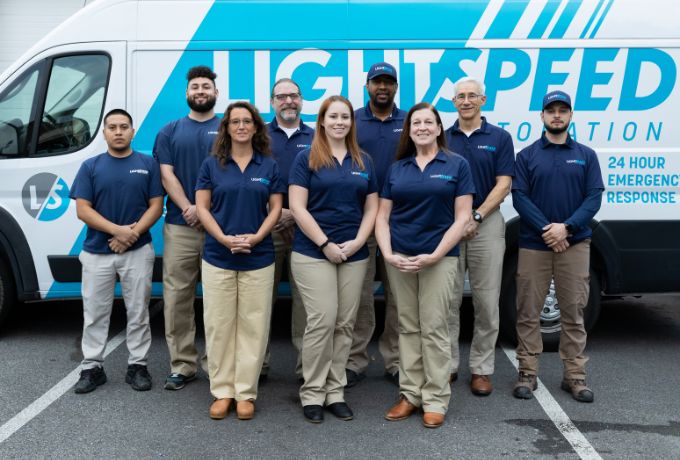 Let our family business help your family and business!
- Dan Derbes, Owner
Lightspeed Restoration of Alexandria & Fairfax
Mold Removal & Water Damage Restoration in Alexandria & Fairfax
At Lightspeed Restoration of Alexandria & Fairfax, we are committed to providing you with the best service experience possible when you have a moisture or indoor air quality concern.
Our comprehensive mold remediation, water damage restoration, air duct cleaning, and moisture control services for both home and commercial businesses are designed to give you improved indoor air quality, peace of mind, and a healthier living and working environment.
At Lightspeed Restoration of Alexandria & Fairfax, we believe providing high-quality services that give our customers the healthy homes and businesses they deserve is essential. Not only are we committed to providing you with the best service experience possible, but we also provide a range of services – both residential and commercial – to help you achieve the best results.
Whether you are a homeowner who has experienced flood damage, or you are a business owner who needs air duct cleaning to improve the indoor air quality of your facility, our caring, certified, and industry-trained professionals are available to assist you. From a variety of commercial services, including dryer vent cleaning and moisture control, to residential services, including coil cleaning, crawl space encapsulation and basement mold remediation, we can assist you with all your needs. You should never have to settle for less or worry that you have to take care of a moisture issue or indoor air quality problem on your own. Our team is always here to answer your questions and alleviate your concerns, so you can get back to your normal routine.
If you have questions about the services we provide, or if you have experienced an event that requires professional help, please contact us at Lightspeed Restoration of Alexandria & Fairfax today for more information. You will find our dedication to providing the services you deserve makes us your go-to team for any mold, moisture, air duct, or water concern. Your satisfaction is our top priority at your home or business.
Our Reviews Speak for Themselves
Dan and his crew are absolutely phenomenal. As a Realtor, having strong referral partners is essential. Dan responded to an emergency water damage call and was on-site in an hour. I was out of town on vacation and looped Dan in with my client. He did an excellent job explaining the process and coordinating everything from start to finish. He handled communication with the insurance company and knew exactly what was needed to make this process seamless for all parties involved. My client was thrilled with Dan's professionalism and responsiveness. He had peace of mind knowing his rental investment property was in excellent hands.

— Renee M. Alexandria, VA
Love Lightspeed Restoration! We were having water issues and Dan came out, more than once, to help us find the problem. He checked everywhere! Once the problem was identified, Dan was more than accommodating and flexible with our needs! We installed a sump pump, which solved the water issue. Unfortunately due to the water, we had tons of mold in the crawl space. He gave us a very fair quote, answered all our questions, and we were scheduled at a time convenient for us. The men that showed up to do the work were amazing, professional, and on time (and familiar since we saw them a year before installing the sump pump- good to see a company that keeps its employees). They got the job done and filled us in with the progress along the way. The duct cleaning was also easy and taken care of the same time as the mold. My husband and I were working from home while Lightspeed Restoration was working on the projects and we never felt put out or inconvenienced by them being here. Highly recommend Lightspeed Restoration!!

— Heather E. Arlington, VA
Mold removal after it was identified during a home inspection to sell our home. They were very accommodating, working through the weekend to help us Close on the sale on a Monday. Awesome job!!

— Jason B. Arlington, VA