Contact Lightspeed Restoration for Residential Fire Cleanup
As a homeowner, remember that kitchen blazes are a top cause of house fires and home injuries. Not only should you have safety protocols in place to keep yourself and your family safe, but knowing who to call in the event you require restoration is vital. Lightspeed Restoration's caring, reliable fire and smoke restoration technicians (FSRT) can address your cleanup needs, from minor to severe. Once you call us, we will mobilize a crew and all the necessary equipment to complete the job and return your property to pre-fire condition.
Because a kitchen fire can occur at any time, we can offer you some helpful cooking safety and prevention tips, such as:
Never leave food unattended on the stovetop, as this is the most common cause of fires in this room of the house.
While cooking anything in the oven, stay at home and check food frequently.
Always keep children away from hot foods and the stove. There could be splashing or steam that can lead to severe burns.
Wear fitted clothing without anything hanging or dangling that could come into contact with flame or hot food.
Keep the stovetop area clear of any combustibles.
Ensure you have a lid nearby to cover pans should there be a grease fire.
Have a working fire extinguisher ready at all times.
You Had a Kitchen Fire – Now What?
If you experience a fire, always be mindful of safety concerns when navigating the kitchen space. If the fire department gets called, they will advise whether you can safely re-enter your home. Rather than attempting DIY cleanup that can cause further damage and leave pungent odors behind, calling our expert team at Lightspeed Restoration ensures results. We can come to inspect your home, evaluate all damage, and formulate a cleaning and restoration plan.
We have IICRC-trained fire damage technicians available around the clock, 365 days a year, for a prompt response.
Our team will perform emergency cleanup and identify and remove all unsalvageable items and charred debris.
To address protein-based residues and odors often present with kitchen fires, we have a broad selection of equipment and techniques to help eliminate odors. Examples: Air scrubbers with HEPA filtration and Hydroxyls to clean the air.
We Never Stop Until All Lingering Odors are Gone
Smoke odors are always an issue with fire damage, and even more so with kitchen fires since they usually involve food items burning. One of the techniques our team may use includes dry ice blasting. This process involves blasting fine dry ice (CO2) particles onto surfaces so unwanted particulates freeze and fracture.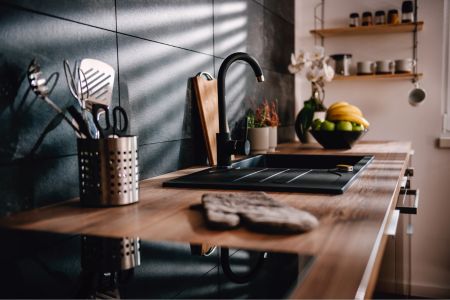 All surfaces get fully restored and disinfected using specialized cleaning agents. Our easy-to-work-with team also takes the time to explain all processes to you, and we will also work with your insurance carrier to help streamline the process. Nobody expects a kitchen fire, but Lightspeed Restoration is available 24/7. Contact our responsive, expert technicians at any time, and we can mobilize a crew as soon as possible to your property to help with fire and smoke damage cleanup.