Call Lightspeed Restoration for Water Damage Cleanup
Spring showers can be refreshing and cool — or they can become a homeowner's worst nightmare. While all the grass and plants coming up for the season need rain, too much of it can mean damage to your property. Heavy rains can cause water to seep into your basement walls or create roof damage, which should quickly get addressed before it becomes costly to repair. No matter how your property is impacted, our caring and responsive Lightspeed Restoration team is here 24/7 for rapid response and skilled water damage restoration.
How Can I Prevent Spring Water Damage?
You can keep your home protected as the rainy season arrives by inspecting your interior and exterior. Consider the following:
Keep it covered: Putting plastic coverings on your window wells or basement windows could help keep rainwater out during spring showers.
Groom the gutters: Always be sure your gutter system is in good repair and gets cleaned out so the gutters can direct water away from your home's foundation.
Roofing TLC: Spring is the perfect time to repair any damage, replace missing shingles, and ensure your flashing gets sealed.
Double-check landscaping: Ensure your ground is sloped away from the foundation and that any plantings are at least three feet from your home.
Sump pump inspection: If you have a sump pump installed, check to see if it is functioning smoothly so it can divert water should levels rise.
Lightspeed Restoration Advice for Homeowners
If you do experience flooding within your home, there are several things to do and to avoid.:
DO:
Remove and secure furniture items to minimize stains or rust and expedite restoration.
Put foil or blocks under wood furniture legs, especially pieces that are antiques or that could stain carpeting.
Pick up shoes, paper goods, potted plants, books, and other items that could stain flooring.
DON'T:
Use any electrical outlets near areas of water intrusion, as it can damage the appliance or cause electric shock.
Put any newspaper on wet surfaces, as the ink can transfer easily.
Activate your HVAC system if it is affected by water or becomes a possible means of spreading contaminants.
Call the Experts at Lightspeed Restoration
Because water damage to your property can quickly become a catastrophe, Lightspeed Restoration is a phone call away with 24/7 availability. Our technicians are easy to work with and will put your mind at ease whenever you have roof damage from storms, flooding, and other issues that arise from springtime weather.
After a disaster, contact us, and we will send a crew of trained and certified technicians to evaluate the damage. We provide a detailed breakdown of what you can expect through each process phase and are always happy to address your questions.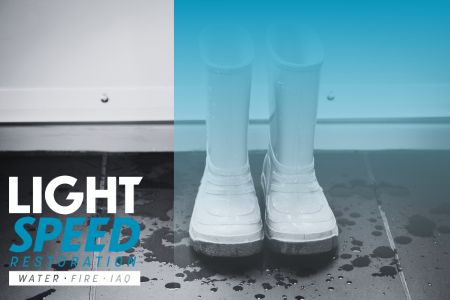 Heavy rains, high wind speeds, and flooding can be disastrous in spring and summer weather patterns. While prevention is the best medicine, Lightspeed Restoration is highly responsive and standing by to return your property to pre-storm condition. Call us whenever you need us; we can help with all your residential water damage needs.