Call Lightspeed Restoration 24/7 for Storm Remediation
Storm damage can take many forms, from wind-blown trees to property flooding. If a severe storm impacts your home, you need comprehensive disaster response and storm recovery to handle all the cleanup work. This is where our Lightspeed Restoration team comes in with rapid response times, skilled technicians, and all the proper equipment at our disposal.
One crucial factor in successfully tackling storm damage and disaster cleanup is planning appropriate recovery actions and prioritizing all risks. Lightspeed Restoration has a network of teams ready to respond to your area and surrounding towns to help all residential and commercial customers pick up the pieces. We can scale our services and tailor the restoration to meet the needs of each customer that calls us for assistance.
Know the Risks of DIY Storm Recovery
Some homeowners go into a DIY cleanup without realizing all possible hazards. These are some essential factors to consider:
With heavy windstorms, flooding, and other storm-related disasters, you must remember electrical hazards. Even standing in puddled water on your property brings electric shock risks, so DIY can lead to issues with exposed connections, wiring damage, and more.
Structural damage can be challenging to detect for someone without proper training. Lighting, floods, and wind will impact homes differently, but they all can weaken structural integrity.
Remember that municipal systems can be strained after a storm hits your community. Floodwaters can bring dangerous bacteria that can impact homes and businesses.
Further damage is another common issue with DIY disaster cleanup. Even if you feel you are a skilled homeowner, there is the potential to make matters worse, which can cost more money and cause more downtime.
Professional Disaster Recovery from Lightspeed Restoration
The Lightspeed Restoration team is known for prompt water damage remediation and disaster recovery services. Whether you have a leaking roof from high wind and debris or contaminated flood water entering your living space, we have you covered. Our emergency response services are available 24 hours a day year-round, so you know you have someone to count on when disaster strikes.
Our water damage technicians have the Institute of Inspection, Cleaning, and Restoration Certification (IICRC). We are also regularly trained to stay up-to-date with all industry trends and restoration processes.
All our emergency services, drying, extractions, and deodorization get completed with strict attention to detail and diligence.
Whether you're dealing with water damage from an appliance leak to a natural disaster, Lightspeed Restoration is prepared to act fast with response times within hours of your initial call.
Our mitigation services help to minimize costs and downtime by preventing further damage and the onset of mold and mildew.
Are you worried about filing your insurance claim? Our team can help make the claims process go more smoothly as we work well with insurance companies and understand the documentation needed to assist in this process.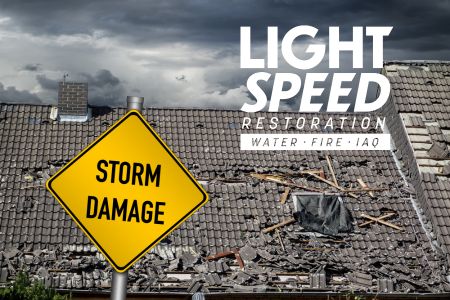 Catastrophes happen, but you never have to pick up the pieces alone. Skip the DIY risks and call Lightspeed Restoration to have our disaster recovery team at your door within hours, ready to work.