If you experience any water intrusion inside your home, quick water extraction is necessary to avoid severe water damage. Leaks, flooding, foundation cracks, or drainage problems can all let water invade your carpets, floors, and walls. No matter the cause, prompt action is essential.
What is Water Extraction?
Extraction involves just what it says: extracting water from your interior. When you contact Lightspeed Restoration, we swing into action with a rapid response plan. Our experts use powerful equipment to thoroughly extract water from soaked floors, carpets, furnishings, and other affected areas.
Water Extraction aims to:
Eliminate the origin of excessive water flow
Drain or extract all water
Dry all surfaces
Dehumidify your interior
Limit the danger of property damage
Avoid mold infestation
The Lightspeed Restoration Extraction Procedure
Water extraction is a job that is best performed by trained professionals. Our qualified technicians use standard procedures and IICRC training to safely and efficiently pull water from your interior. Our process involves specific knowledge and industrial-grade equipment, including the following steps:
Identifying and eliminating the excess water
Addressing all potential safety concerns
Thoroughly drying all areas after extracting water
Disinfecting and sanitizing the area
Dehumidifying the home
Water Extraction vs. Water Mitigation
It's crucial to understand that water extraction is just the first step - mitigation comes next. After our team completes the extraction process, we shift gears to water mitigation. This phase involves removing any damaged, unsalvageable parts of the structure and its contents. Floors, walls, furniture - if the water destroyed it, we dispose of it properly to minimize the overall loss. This often means cutting out soaked drywall or flooring sections beyond repair.
Mitigation also includes thorough cleaning, drying, and disinfecting of the property. We utilize commercial-grade equipment and products for optimal drying and cleaning. This helps eliminate pockets of moisture where mold could take hold.
Professional Equipment Matters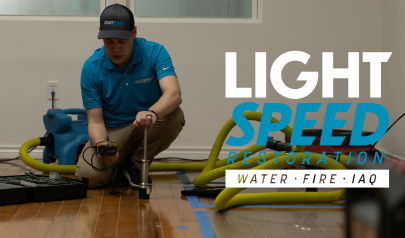 Lightspeed Restoration arrives with industrial-grade pumps and extractors capable of pulling up hundreds of gallons of water. We also bring powerful dehumidifiers and heavy-duty fans to help us reach our drying goals to return your interior to pre-damage condition.
Contact Lightspeed Restoration when you need residential water extraction and drying services. Call us at (800) 620-4009, and we can send our team to your door as quickly as possible to begin assessing and addressing your water damage.