Anyone affected by a fire goes through various emotions, from anger to sadness and everything in between. Fires are ferocious, making you feel vulnerable as the damage overtakes your property. Lightspeed Restoration is here 24/7 for all your restoration needs, helping you to return your home to pre-damage condition.
The aftermath of a fire extends beyond the moment the flames are extinguished. Your belongings are covered in soot and residue, and the smoke odor likely seems like it will be part of your home forever. But our skilled fire damage restoration technicians have the training and expertise to formulate a plan of action and expedite your home's restoration. Once the smoke clears, Lightspeed Restoration is ready to help with lightning-fast fire damage cleanup, smoke odor removal, and contents cleaning.
The Importance of Prompt Fire Mitigation
The initial 24 to 48 hours post-fire are considered the golden hours of recovery. We provide 24/7 emergency response to quickly stabilize your home to ensure we can recover as much as possible. During a fire, acidic smoke and soot can accelerate the corrosion and deterioration of vital assets and building materials. Compounding the problem further is that fires get extinguished by water or dry chemicals. Smoke odors are also left behind, which must be completely neutralized and deodorized.
Our process involves mitigating damage while addressing smoke odors and water removal as fast as possible. Beyond all visible damage, we inspect contents inside your home, and determine salvageability based on the following:
The effect of heat and smoke
Cost of replacement versus restoration
Loss of value or use
Sentimental value
Lightspeed Restoration's fire remediation includes end-to-end services like board-up, demolition, soot removal, deodorization, and restoration. Once you make the call, we can have a crew at your home ready to start within hours.
Our Team Supports Local Fire Departments
We are proud to work closely with local fire personnel, as we get called in to help with fire damage efforts shortly after fires get extinguished. Our support services include the following:
Site containment and emergency board-up/tarping services: Helping secure the property and preserve the scene from further smoke or fire damage.
Debris handling: Our expert technicians are trained to safely and effectively clear paths and expedite the hauling of debris and other fire-damaged contents.
We also provide emergency power and lighting at the scene.
What Will Fire Damage Restoration Look Like for Me?
How we approach each project depends on the property type, the severity of fire damage, and how much time has passed since the fire. We take the following steps upon arrival:
Inspect and assess the extent of contents and property damage
Take immediate action for mitigation to prevent further damage
Decontaminate the site from dust, soot, and smoke
Restore the property and contents to pre-fire condition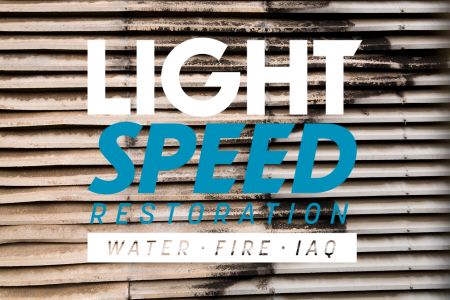 Professional restoration with Lightspeed Restoration gets results for anyone in the area who has suffered from fire damage. Our fire and smoke restoration technicians (FSRT) will do everything possible to minimize loss and inconveniences caused by the blaze. Call us today at (800) 620-4009, and we can quickly send out a restoration team.