Storm damage can be extremely disruptive and stressful for business owners. Heavy rains and high winds may leave your property damaged, and uncertainty about next steps can hurt your operations. While wind and debris can harm any building, Lightspeed Restoration's experienced teams are here 24/7 to get your business back on track. With trusted restoration services and swift disaster recovery, we work around the clock to return your property to its pre-loss condition. You can count on our expertise and responsiveness to handle storm damage so you can focus on resuming business.
Area storms can inflict damage on your building through various factors, such as:
Broken windows due to flying debris
Fallen trees and limbs
Damaged siding and roofing from strong winds and debris
Floodwater entering your facility
If any of these have occurred, contact Lightspeed Restoration for rapid response. We will inspect the damage and determine the next best steps to return your business to normal. Hiring professional technicians for disaster response is essential because it ensures the project gets done promptly and safely.
At Lightspeed Restoration, we offer comprehensive services beyond storm and disaster response. Our expertise also covers water damage restoration and mold remediation for homes and businesses. Regardless of the type of damage your property suffers, we have the skills and experience to help. More than just emergency services, we provide complete solutions before, during, and after catastrophes strike. You can rely on our team for a wide range of restoration needs, from quick response through full recovery. We're here to assist you through the entire process, restoring your property back to its original condition.
Our Emergency Storm Damage Cleanup
Disasters strike when you least expect them, so our 24-hour call center allows you to reach us day or night. Our service offerings are tailored to your unique needs, including:
Debris Removal: Our team can remove debris blocking entrances to your facility, loading docks, parking, and more.
Window Board-Up: We can secure your facility by boarding windows and other openings to ensure your business is not vulnerable.
Roof Tarping: Tarp-up services provide temporary protection to prevent further damage to your facility.
Extractions and Drying: We remove standing water and fully dry your facility to return your interior to pre-storm condition.
Emergency Demolition: This is helpful if any portions of your building need to get brought down fast to prevent possible hazards.
At Lightspeed Restoration, we understand that your business involves many working parts. From employee safety to inventory, we consider every facet of your company when formulating a storm cleanup and recovery plan. Our skilled technicians carefully plan and execute each phase of the cleanup, logging all contents and cleaning items deemed salvageable. Salvageable items will be stored off-site while the rest of the restoration occurs.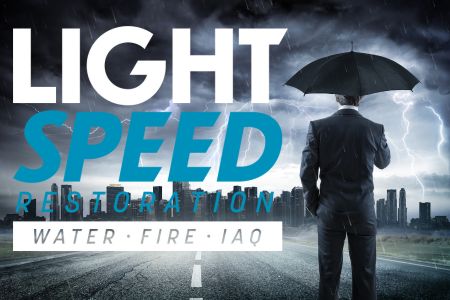 Your business is in excellent hands when you call Lightspeed Restoration for commercial storm cleanup at (800) 620-4009. We are available 24/7 to give you the peace of mind that our trusted professionals are on the job when you need it most.