If your commercial or industrial property recently had a water damage incident, it could be at risk for mold development. Even if you had your maintenance team begin water cleanup, any missed moisture can harm building materials and create the perfect environment for microbial growth. Lightspeed Restoration is available to perform skilled mold remediation services, and we also take the time to address the moisture source to keep the problem from happening again. The sooner you reach out to us, the quicker we can reduce any long-term risks and improve your indoor air quality (IAQ).
Typical questions you may ask when you discover mold growth in your commercial property:
Is mold hazardous?
Should I worry about breathing in mold?
Is there anything that kills black mold?
What will it cost for mold removal services?
Can I have my janitorial staff begin mold cleanup?
Without proper assessment and remediation services, mold growth can impact your facility structure and also negatively impact air quality. Lightspeed Restoration's trained mold specialists can help you safely and effectively navigate mold-related situations.
Mold Mitigation and Remediation Services
If your business is impacted by microbial growth, we can help address it quickly before secondary damage takes hold. Mold remediation involves much more than removing visible signs, as it calls for expert removal and carefully followed protocols.
At Lightspeed Restoration, we specialize in mold damage remediation so you can get your business back to normal with little to no downtime. We have years of experience following all guidelines for safe practices via the IICRC. Our technicians use the appropriate personal protective equipment (PPE), put containment measures in place, and utilize specialized equipment for pulling up spores and trapping any particles that become airborne.
Helpful Moisture and Mold Prevention/Control Tips
Moisture control is essential to managing or preventing mold growth. These are some things to keep in mind for your commercial property:
Clean and maintain all roof gutter systems regularly.
Once water spills, or leaks occur inside, act immediately. When damp or wet materials are left to sit after an incident, microbial growth can develop in as little as 24 to 48 hours.
Always keep AC drip pans cleaned out and all drain lines unobstructed and adequately flowing.
Ensure your ground slopes away from the foundation so water does not enter your commercial building.
Maintain low indoor humidity, with optimal levels below 60%.
If you notice moisture or condensation building on walls, piping, or windows, act promptly to dry surfaces and reduce moisture.
If you are covered by insurance for mold, we are happy to work with all major insurance providers to facilitate your commercial mold damage claim, ensuring all paperwork gets completed and in order.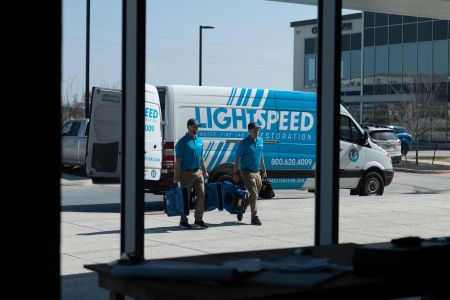 Do you need help with commercial moisture control and mold damage remediation? Lightspeed Restoration is in the business of restoring your peace of mind and getting you back to business fast. Call our offices at (800) 620-4009 to schedule a crew for assessment and remediation.